A scene from the Second Great Awakening
In 1 Chronicles 12:32, the Bible describes a fascinating group of people among the followers of King David. They were men of the sons of Issachar who had understanding of the times, to know what Israel ought to do. Do we whom Jesus has called to be evangelists understand the times we are living in? Have we understood what God is doing in our generation, so that we may be wise co-laborers with Him? Have we seen our calling from God's larger perspective? If so, then it is an exciting time to be alive!

Understanding God's Plan for the Body of Christ

As evangelists, we need first to catch the vision of what the Lord has been doing in history, so that we can recognize His work in our own day. Over the last several hundred years, the Lord has been restoring Biblical truths that had long been lost through compromise, false teaching and false teachers, and the exaltation of human religious traditions in place of eternal, Biblical truths. These eternal truths include salvation by faith and not by works, the assurance of the forgiveness of sins, sanctification, holiness, the baptism of believers by immersion, and the baptism and gifts of the Holy Spirit, among others.
In recent years, the Lord has been restoring to His church all of the ministries, gifts, and functions ofthe Biblical Body of Christ. This includes the critical role in the early church of elders in the leadership of local congregations, something believers are only just beginning to comprehend once again. Read carefully the words of 1 Peter 5:1-4, and note what is said, as well as what is not said:
"The elders who are among you I exhort, I who am a fellow elder and a witness of the sufferings of Christ, and also a partaker of the glory that will be revealed: Shepherd the flock of God which is among you, serving as overseers, not by compulsion but willingly, not for dishonest gain but eagerly; nor as being lords over those entrusted to you, but being examples to the flock and when the Chief Shepherd appears, you will receive the crown of glory that does not fade away."
Peter is stating that the elders are called to "shepherd" [poimaino (poy-mah'-ee-no); to tend as a shepherd, to pastor] the flock of God. Notice that "shepherd" here is an action, not a title, and also that the word elders is always plural.

During the first century A.D., a multiplicity of ministry was the normal experience of the congregations of the saints. The traditional role of a single pastor serving as spiritual leader and chief executive officer of a local church was a historical development in later centuries as churches became institutionalized. Remember that the Biblical Body of Christ will never be an institution or an organization, nor is it the property of any institution or organization. The Biblical church is a living organism made up of many members with a wide variety of functions, and it belongs only to Jesus Christ.

To summarize, we are living in a day when Christ is restoring the church to her full New Testament pattern and power. The Father is preparing an eternal Bride for His Son, one that will be ready for Him when He returns to earth! Remember the famous passage from James 5:7-8: "Therefore be patient, brethren, until the coming of the Lord. See how the farmer waits for the precious fruit of the earth, waiting patiently for it until it receives the early and latter rain. You also be patient. Establish your hearts, for the coming of the Lord is at hand." As the Lord gave the former rain to establish the early church beginning with the day of Pentecost, may He give us the latter rain to restore His church to her original Biblical pattern, power, and purity in these latter days.

Timothy Dwight, the president who turned Yale College into a major university, was a key figure in the Second Great Awakening in the United States. The First Great Awakening of the 1730's and 40's and the Second Great Awakening in the early 1800's were revivals that spread across the North American continent and England. Their effects continue to this day in missionary movements that have spread to every corner of the globe. For six years, beginning in 1795, Timothy Dwight prayed, preached, and debated all comers about the great truths of the Bible–without a single convert. Then in the seventh year, the Lord sent a powerful revival that brought nearly 80 out of the 230 students in the college to living faith in Christ. In 1800, Dwight wrote the famous hymn that includes the words…
Timothy Dwight
I love thy church, Oh God,
Her walls before Thee stand,
Dear as the apple of Thine eye,
And graven on Thy hand.


For her my tears shall fall
For her my prayers ascend,
To her my cares and toils be given
Till toils and cares shall end.

Are we who call ourselves evangelists busy about building our own ministries? Or, like Timothy Dwight, are we devoting our lives to building the church of Jesus Christ? Every ministry, denomination, organization, and institution will pass away, but the church built of living stones will stand forever.
The Role of the Evangelist in the Body of Christ
As evangelists, we need to understand our place and our role in the church. Ephesians 4:7-8, 11-14 says,
"But to each one of us grace was given according to the measure of Christ's gift. Therefore, He says: 'When He ascended on high, He led captivity captive, and gave gifts to men….' And He Himself gave some to be apostles, some prophets, some evangelists, and some pastors and teachers, for the equipping of the saints, for the work of ministry, for the edifying of the body of Christ, till we all come to the unity of the faith and of the knowledge of the Son of God, to a perfect man, to the measure of the stature of the fullness of Christ…."
As the son of a small-town minister, I grew up believing that to serve the Lord I had to be a minister or a missionary. The idea of being an evangelist never entered my mind, until the Lord spoke plainly to me about my calling one Saturday morning when I was 20 years old.
My father, on the other hand, broke through in prayer much earlier, understanding that I was called to be an evangelist before I was even born. As the Lord spoke to Jeremiah in chapter 1, verses 5-8,

"Before I formed you in the womb I knew you;
Before you were born I sanctified you;
I ordained you a prophet to the nations."

Then said I: "Ah, Lord God!
Behold, I cannot speak, for I am a youth."

But the Lord said to me:
"Do not say, 'I am a youth,'
For you shall go to all to whom I send you,
And whatever I command you, you shall speak.
Do not be afraid of their faces,
For I am with you to deliver you," says the Lord.

I would love to be able to say that I quickly responded "Yes!" to the Lord's calling on my life. But the fact remains that I immediately responded, "No, Lord! I can't be an evangelist! I don't know how to speak!" Two days later, however, a letter came in the mail from a missionary who spent almost 50 years in Colombia, South America. The Lord had given Mrs. Hannah Lowe a vision, and shown her two things: that God had called me to be an evangelist, but that I was going the wrong way, running away from that calling. Oh how patient the Lord is with His stubborn, unbelieving children!
George Whitefield Preaching at Cornwall
During the First Great Awakening
The role of the evangelist is critical to the building up of the Body of Christ. And, regardless of what some may claim in our day, the need for evangelists will never end until Christ returns. The apostle, the prophet, the pastor, and the teacher all have differing callings, but every role is ordained of God and is critical to the building up of the church. As is clear from the life of Paul, an apostle is intended by God to have far-seeing vision both for the church and for a lost world. By contrast, those whom God calls to pastor and teach His flock must focus chiefly on those who are already among the redeemed. If the entire leadership of the Body is made up only of those genuinely called by God to be pastors (or elders) and teachers, the church's vision to reach the lost will be far more circumscribed than God intends.

As Abraham called his servant Eliezer to go out and find a bride for his son, Isaac, so we evangelists are called to search out a Bride for Christ among those who are now far away from God's Kingdom. Searching out gems for Jesus among multitudes of lost, contentious, unpromising, and even depraved souls is hard work, but it is work that is ordained by God! Consider again Jesus' words in John 15:16, "You did not choose Me, but I chose you and appointed you that you should go and bear fruit, and that your fruit should remain…."



The Passion of the Evangelist

First of all, the true evangelist cannot rest at peace while souls are perishing, dying because they have never had the chance to experience the grace of Jesus Christ. The heart and soul of the evangelist focuses on the lost. He or she may minister to the saints in various capacities, but the heart inside constantly yearns to be in the harvest fields among the perishing. Many believers live perfectly comfortable lives, happy to be saved, oblivious to the lost all around them. But the man or woman whom Jesus has touched with His burden for dying souls finds a restlessness inside that is not so easily satisfied. As Proverbs 24:11-12 warns:

"Deliver those who are drawn toward death,
And hold back those stumbling to the slaughter.
If you say, 'Surely we did not know this,
'Does not He who weighs the hearts consider it?
He who keeps your soul, does He not know it?
And will He not render to each man according to his deeds?"

How easy it is to claim that we did not know, that we did not see the souls perishing all around us. Many people who lived right next door to the Nazi concentration camps during World War II claimed afterwards that they knew nothing about what was going inside those places of death. Remember Jesus' response to the wicked who claimed ignorance in Matthew 25:44-46, "Then they also will answer Him, saying, 'Lord, when did we see You hungry or thirsty or a stranger or naked or sick or in prison, and did not minister to You?' Then He will answer them, saying, 'Assuredly, I say to you, inasmuch as you did not do it to one of the least of these, you did not do it to Me.'"

While riding in a coach one day in England more than 100 years ago, the Lord gave a vision to William Booth, the mighty evangelist who founded and built the Salvation Army. Here is part of his description of that vision, lengthy but highly worth considering:
William Booth
"I saw a dark and stormy ocean. Over it the black clouds hung heavily; through them every now and then vivid lightening flashed and loud thunder rolled, while the winds moaned, and the waves rose and foamed, towered and broke, only to rise and foam, tower and break again. In that ocean I thought I saw myriads of poor human beings plunging and floating, shouting and shrieking, cursing and struggling and drowning; and as they cursed and screamed they rose and shrieked again, and then some sank to rise no more. And I saw out of this dark angry ocean, a mighty rock that rose up with it's summit towering high above the black clouds that overhung the stormy sea. And all around the base of this great rock I saw a vast platform. Onto this platform, I saw with delight a number of the poor struggling, drowning wretches continually climbing out of the angry ocean. And I saw that a few of those who were already safe on the platform were helping the poor creatures still in the angry waters to reach the place of safety.

On looking more closely I found a number of those who had been rescued, industriously working and scheming by ladders, ropes, boats and other means more effective, to deliver the poor strugglers out of the sea. Here and there were some who actually jumped into the water, regardless of the consequences in their passion to 'rescue the perishing.' And I hardly know which gladdened me the most – the sight of the poor drowning people climbing onto the rocks reaching a place of safety, or the devotion and self-sacrifice of those whose whole being was wrapped up in the effort for their deliverance.

As I looked on, I saw that the occupants of that platform were quite a mixed company. That is, they were divided into different 'sets' or classes, and they occupied themselves with different pleasures and employments. But only a very few of them seemed to make it their business to get the people out of the sea. But what puzzled me most was the fact that though all of them had been rescued at one time or another from the ocean, nearly everyone seemed to have forgotten all about it. Anyway, it seemed the memory of its darkness and danger no longer troubled them at all. And what seemed equally strange and perplexing to me was that these people did not even seem to have any care – that is any agonizing care – about the poor perishing ones who were struggling and drowning right before their very eyes… many of whom were their own husbands and wives, brothers and sisters and even their own children….

But the thing to me that seemed the most amazing was that those on the platform to whom He called, who heard His voice and felt that they ought to obey it – at least they said they did – those who confessed to love Him much were in full sympathy with Him in the task He had undertaken – who worshipped Him or who professed to do so – were so taken up with their trades and professions, their money saving and pleasures, their families and circles, their religions and arguments about it, and their preparation for going to the mainland, that they did not listen to the cry that came to them from this Wonderful Being who had Himself gone down into the sea. Anyway, if they heard it they did not heed it. They did not care. And so the multitude went on right before them struggling and shrieking and drowning in the darkness.

And then I saw something that seemed to me even more strange than anything that had gone on before in this strange vision. I saw that some of these people on the platform whom this Wonderful Being had called to, wanting them to come and help Him in His difficult task of saving these perishing creatures, were always praying and crying out to Him to come to them!… And all the while He was down (by His Spirit) among the poor struggling, drowning creatures in the angry deep, with His arms around them trying to drag them out, and looking up – oh! so longingly but all in vain- to those on the rock, crying to them with His voice all hoarse from calling, 'Come to Me! Come, and help Me!'"
God's heart is so tender toward the lost! Brokenness should therefore be the normal condition of the heart of every follower of Jesus: brokenness because of the greatness of our sin, brokenness because of the marvelous mercy we have received, and brokenness because we realize that so many around us are still lost and on their way to eternal death.
William Booth Preaching
As 2 Peter 3:9 plainly declares, "The Lord is not slack concerning His promise, as some count slackness, but is longsuffering toward us, not willing that any should perish but that all should come to repentance." God broke the heart of William Booth as a young man, and then used him and his beloved wife, Catherine, to rescue tens of thousands of England's oppressed underclass of incurably poor, helpless, and hopeless souls. As some scholars have since pointed out, the work of the Salvation Army so transformed English society at the end of the 19th century that it is likely that the Booths spared England from a Communist revolution. Before they and other like-minded believers arrived on the scene, multitudes of England's poor had been no less miserable than the oppressed masses of Czarist Russia.

But now? Now it is our time–and our turn! Are we willing to let men, women, and children in our generation perish for lack of the salvation that only Jesus can give? The terrible reality is that many believers prove every day how little they care about the lost by their actions, or lack thereof. As I said before, the Lord had to work on my heart for a long time before I was willing to be an evangelist. About ten years ago, my wife persuaded me to go with her to see the movie Titanic over my strong objections. I knew too much of the tragic history of that ship to enjoy a silly Hollywood romance (I have nothing against real romance, just the Hollywood version). I still would not recommend that movie, but that day, my wife was right and I was wrong. I sat weeping in my seat during the scene near the end when survivors, resting in lifeboats that were less than half-filled, refused to go back and rescue hundreds more who were still drowning in the freezing North Atlantic.
A lifeboat from the Titanic
It was then that the Lord spoke to me, pointing out that we believers are like those in the lifeboats. We are so glad to be safe and dry that we fail to care about those still drowning all around us. In that theater, the Lord spoke to me words that I will never forget: "Don't run from the fire!" What fire, you may ask? The fire of God's love that wants to purify us to the bottom, to burn up all the dross that will never fit in the Kingdom of Heaven–until we become vessels fit for the Master's use. The fire of the Spirit that, having rescued us, wants to burn so strongly in our hearts that we are no longer willing to let others perish, dying for the want of the help we could give them. The fire that brings tears to our eyes as we pray for others because our hearts are filled with the love of the One who is "not willing that any should perish." For two or three years after that day in the theater, I could not listen to the theme song of the movie Titanic, either on the radio or in a store, without beginning to weep again. Oh, that God would break our hearts–until we care as He cares, and become willing to go out at any cost to "rescue the perishing."
The Motivation of the Evangelist

Second, the evangelist's motivation must be God's love for people, not our love for them. Our love will soon grow cold in the face of human indifference, hardness of heart, and even mockery. But the love of God is a fire that will never grow cold! As Isaiah 52:7 states,
2006 First Colombian
Congress of Evangelists
"How beautiful upon the mountains
Are the feet of him who brings good news,
Who proclaims peace,
Who brings glad tidings of good things,
Who proclaims salvation,
Who says to Zion, 'Your God reigns!'"

How long has the Lord been calling the House of Israel to repent, and how long have many Jews resisted that call? Yet God's love for the Jewish people will never fail. As Jeremiah 31:3-4 states, "Yes, I have loved you with an everlasting love; therefore with lovingkindness I have drawn you. Again I will build you, and you shall be rebuilt, O virgin of Israel!"

Is not the Gospel of Jesus Christ still "for the Jew first and also for the Greek"? God's plans and purposes for this present world will never change. Until Jesus returns, our Heavenly Father is continually seeking out both Jews and Gentiles who will repent and turn away from their sins. If it were up to most of us, however, we would soon act like the disciples who wanted to call down fire from heaven on the miserable wretches who dared to resist the Gospel of Jesus Christ. Oh, how quickly we forget how bad we were–before the grace of God transformed our lives, enabling us to become humble rescuers of others!

Who is it anyway who makes the feet of the evangelist "beautiful upon the mountains"? If we think that we have any goodness or worthiness in ourselves, we have already missed the point. For years, I have kept a saying from Cotton Mather in the front of my Bible–to remind me where every good gift comes from: "But what am I? Nothing. Who am I? No one. But the grace of Christ makes what I am, what I live, what I do." The message we are called to bring is not about you or me, or about what we think. It is about the Lord and His undying love for lost sinners!

Years ago, I heard Billy Graham speak words that I believe go to the heart of why the Lord has been able to so powerfully use this former farm boy. He flatly stated that it is not his job to save people. It is God's job! His job is to hide behind the cross whenever he preaches the Gospel, so that people see Jesus, not Billy Graham. Years ago, the long-time missionary to Colombia, Mrs. Lowe, pleaded with me and with other young people, that we would let God make us "safe for blessing," people whom He can trust and use–without it going to our heads!
The Power of the Evangelist

Third, the power is in the message, not in you or me! As Paul reminded the saints in his day, "But we have this treasure in earthen vessels, that the excellence of the power may be of God and not of us." (2 Corinthians 4:7-8) We are simply ambassadors, called to pass on a message that we did not write and called to deliver that message faithfully! The Gospel existed long before we were born so woe to us if we start tampering with this eternal Good News, adding or taking away anything from it! The message of sin, judgment, and salvation in Jesus Christ is the greatest story anyone can ever tell. May God make us faithful bearers of this Great News.

When I was 19 years old, members of my church were preaching one Sunday afternoon on a sidewalk in Times Square in New York City, and many stopped to listen. As a teenager, full of the vigor of youth, the blessings of that afternoon were not enough for me, so I asked the Lord to give me someone else to talk to on the bus back to Yale University. There was only one seat open on the entire bus, so there was no question about where I was to sit, right next to a 72 year-old man who soon told me his story. When he was 70 years old, he had suffered a heart attack and spent an entire year in the hospital. During his convalescence, his previously faithful wife of 50 years had been unfaithful to him. He became so enraged at her and at God that, when he got out of the hospital, he decided to throw his life away. That weekend, he had gone into New York determined to get drunk, to sleep with prostitutes, and do every evil thing that he had not done in 50 years of marriage–all to get back at his wife! My heart broke as I saw the pain and sorrow in that old man's face, and I began to tell him about the love and forgiveness found in Jesus Christ.

Unfortunately, my words only enraged him even more, and he turned his back on me, refusing to respond. Something inside, however, urged me to keep talking, to continue telling him about the love of Jesus. After about one half hour of speaking to the back of that man's head, I was ready to give up, but then I saw the man's face reflected in the window of the bus. Tears were streaming down his cheeks, and I knew that God had touched his heart. I asked him if he wanted to accept Jesus Christ as his personal Lord and Savior, and he turned towards me and responded quietly, "Yes, I do." He prayed with me, pouring out all his hurt and pain at the feet of Jesus, asking for forgiveness for all the terrible things he had done that weekend. Most of all, he asked forgiveness for his attitude towards his wife, and in turn, he forgave her for all that she had done.

Just as he finished praying, we came to his bus stop. As the old man left to exit the bus, he turned around and came back repeatedly to shake my hand and to thank me for leading him to Christ. The poor bus driver was frantic, and had to beg him to get off the bus so that he could finish his route on time. A few months later, that man wrote to me that he had led his wife to Christ, his marriage had been restored, and he was happier than he had ever been in his life. Until the end of time, the "old, old story" of Jesus Christ and His great love will never change, nor lose its power to transform lives!
The High Calling of the Evangelist

Fourth, the calling of the evangelist is a high calling. We have been ordained by the Lord to reach unreached multitudes for Christ. The fulfillment of this part of our calling is neither easy nor automatic. It may also be strongly contested and even belittled, but with God all things are possible. We need to prayerfully remember the words of Isaiah 55:8-11:

"For My thoughts are not your thoughts,
Nor are your ways My ways," says the Lord.
"For as the heavens are higher than the earth,
So are My ways higher than your ways,
And My thoughts than your thoughts."

"For as the rain comes down,
And the snow from heaven,
And do not return there,
But water the earth,
And make it bring forth and bud,
That it may give seed to the sower
And bread to the eater,
So shall My word be that goes forth from My mouth;
It shall not return to Me void,
But it shall accomplish what I please,
And it shall prosper in the thing for which I sent it."

I recently heard a pastor in New York City claim that most people are saved through personal witness, not through the ministry of evangelists, but that is just not true. In many cases, believers simply fail to seize their opportunities to be witnesses to the grace of God. Or the testimony of their daily life and behavior is not something that will draw people to Jesus. It may even scare some away! Thank God for personal evangelism, but even if every believer faithfully witnessed to every family member, neighbor, workmate, or schoolmate, most of the world would still not hear the Gospel of Jesus Christ.

We are living in a day when God is reaching out to nations that have never been reached before. This is something that has to happen, for as Jesus declared in Matthew 24:14, "And this gospel of the kingdom will be preached in all the world as a witness to all the nations, and then the end will come." Even with nations like Colombia that have been partially reached with the Gospel, the Lord is not satisfied. He is reaching out in larger, deeper ways, until the rain and snow come down from Heaven and bring forth the full harvest of these latter days. All things considered, it is an exciting time to be alive and serving the Lord! As a young man, I never dreamed that I would one day be preaching the Good News of Jesus Christ in Colombia. Yet, almost 35 years ago, when I was a young college student, Mrs. Lowe stopped me one day and said, "You always pray for Japan and China, yet you are part of a church with missionaries in Colombia. Won't you please begin to pray for Colombia?"
2006 First Bogotá, Colombia
I never forgot her plea, and have been praying for Colombia for more than 30 years, that God would send revival to this land. You see, there is great awakening ahead for Colombia, not just for the United States! I had to learn as a young man, and God has had to keep reminding me ever since, "'For My thoughts are not your thoughts, nor are your ways My ways,' says the Lord. 'For as the heavens are higher than the earth, so are My ways higher than your ways, and My thoughts than your thoughts.'" What more can we ask as evangelists than to walk fully in the counsel of God's ways and thoughts and see His perfect will accomplished on earth?








The Difficulty of the Evangelist's Calling

Fifth and last, and I feel that I must emphasize this, the calling of the evangelist is not an easy one. A while back, I was at a gathering of missionaries here in Colombia, missionaries from Colombia to other countries. A missionary to Spain walked up to me and asked me what my work for the Lord was. When I told him that God had called me to be an evangelist, he warned me plainly that many whom the Lord has called in these days to be evangelists have grown discouraged and given up. He said that many had decided to take positions as pastors because their means of support was far more obvious than it had ever been when they tried to work as evangelists. Then, he counseled me in the strongest possible terms, "Never give up on your calling! Never become something other than what God has called you to be!"

It is true! Being an evangelist usually does not come with a salary, but God will still provide. Hudson Taylor, a famous missionary to nineteenth-century China and the founder of the China Inland Mission, left some powerful advice for those who serve Jesus Christ by faith without visible means of support: "God's work done in God's way will never lack God's supply." Taylor went to China alone as a young man, and ministered in inland areas where no missionary had ever gone before. Yet, by the end of his life, the China Inland Mission had brought in and was supporting almost 850 additional missionaries. This man of faith also stated, "I have found that there are three stages in every great work of God: first, it is impossible, then it is difficult, then it is done."

Being an evangelist does not come with a written manual or agenda. We must advance on our knees and by yieldedness to God. The words of 2 Corinthians 5:7-8 must be true of our lives, "For we walk by faith, not by sight." Then again, the greatest works of God are always done by faith, and not by human ability or ingenuity.

To be an evangelist is to be misunderstood by some, including believers. Some church leaders and pastors may even think that we are in competition with them, but the work of the evangelist is to build up the church of Jesus Christ, not our own little kingdom. Some believers will not understand our burdens, what it is that concerns us so much, yet let us never despise the burdens that God puts on our hearts. Years ago, a brother in the Lord asked me how I could possibly pray for revival in New York City, which he called the "modern Babylon." He was genuinely puzzled and was even right in one sense, yet how could I not pray for revival in the city that the Lord has made me part of, and put on my heart for more than thirty years? As the Lord spoke to Israel in Jeremiah 29:7, "Seek the peace and prosperity of the city to which I have carried you into exile. Pray to the Lord for it, because if it prospers, you too will prosper." Are we not all exiles here on earth, longing for a kingdom where sin and death will never again enter? Should we not lift up our prayers to Heaven and shed our tears for the places God has caused us to inhabit for a little while?
David Brainerd Preaching
to Native Americans
In addition, the breakthroughs we evangelists pray for take much prayer and patience. We are called to break new ground for the Lord, and that has always been costly work. The young David Brainerd did not at first aim to preach to Native Americans. Yet in 1742, when he was thrown out of Yale for making an unwise comment about the spiritual deadness of the head of the college, he soon found himself living and working among those suffering and spiritually blind people. For months and years, he prayed and wept to see a single convert among the natives, fighting discouragement and despair that anything would ever change. Yet, when God finally did move in power, not only did the natives who heard his preaching come under deep conviction and repent of their sins, but others who were far beyond the range of his voice fell down under similar conviction and also turned to the Lord–all by the power of the Holy Spirit.

Another reality we face is that sinners are not always pleasant, nor were we before Jesus saved us! The first ones other than my parents to tell me about the grace of Jesus Christ doubtless left with a strong impression that they had just wasted their time on a nasty and angry kid. Always remember that those who respond most unkindly to the Gospel may later become the most important fish we reel in for Christ. Dwight Moody did not seem to be a very promising prospect to his Sunday School teacher, Mr. Kimball. Yet that man was moved in his heart to pray for the religious but unconverted young man in his class.
Dwight Moody
One day, Mr. Kimball decided to go to the shoe store where Moody was working. Someone could well have said to him, "Why not wait until next Sunday to talk to him?" But he did not wait. He walked right into the store, past all the other clerks, and talked to Moody one-on-one in the back room about the love of Jesus Christ. He was sure that he was not doing a very good job of witnessing, but by the end of the conversation, Dwight Moody had received Jesus as his Lord and Savior. That young, uninspiring, uneducated shoe salesman went on to become the most far-reaching evangelist of the nineteenth century.
Called to Faithfulness, Not to Fame

Last but not least, most evangelists will never be famous here on earth. A few will, but most remain largely unheralded and unknown in this life. Nevertheless, may God give us grace to be faithful in every aspect of our calling here, and thereby to have our names known in Heaven! I will close with a marvelous response to a question that I heard Dr. Billy Graham give many years ago. A reporter asked him what he thought would be the headline in Heaven's newspaper when he, Billy Graham, died and went home to be with the Lord. Dr. Graham thought for a moment, and then responded that the headline and lead article that day would be about some little old lady whom no one had ever heard of, yet who had laid down her life as a faithful intercessor and prayer warrior for the land where the Lord had placed her. As for himself, Dr. Graham said that there would be a small notice on p. 35, "Billy Graham? He made it."

One final thought, Thomas E. Lowe, the missionary and evangelist who laid down his life as a martyr for Colombia in 1941, used to declare that the most important quality that God is looking for in the lives of His servants is faithfulness. God is not looking for how we have done, but whether we have been faithful to Him:

"Now to Him who is able to keep you from stumbling, and to present you faultless before the presence of His glory with exceeding joy, to God our Savior, who alone is wise, be glory and majesty, dominion and power, both now and forever. Amen." (Jude 24-25)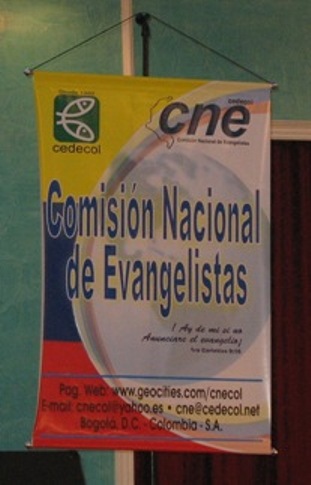 Copyright ©2008 Christopher N. White.

(Adapted from a message given on Friday, March 17, 2006 to the First National Congress of Evangelists in Bogotá, Colombia.)

All Bible references are from The New King James Version, Thomas Nelson, Inc.: Miami, Florida, 1982.

Header engraving from the Second Great Awakening: Camp Meeting. Color lithography Kennedy and Lucas, after a painting by A. Rider, ca. 1835, negative number 26275. Collection of the New York Historical Society, New York City.
Bibliography:

1. William Booth, A Vision of the Lost. Available at http://www.cephas-library.com/salvation_army/salvation_army_founder_booth.html (visited March 7, 2008).

2. William R. Moody, The Life of Dwight L. Moody. Fleming H. Revell Company: New York, 1900.

3. James Strong, The Exhaustive Concordance of the Bible. Abingdon: Nashville, Tennessee, 1890.