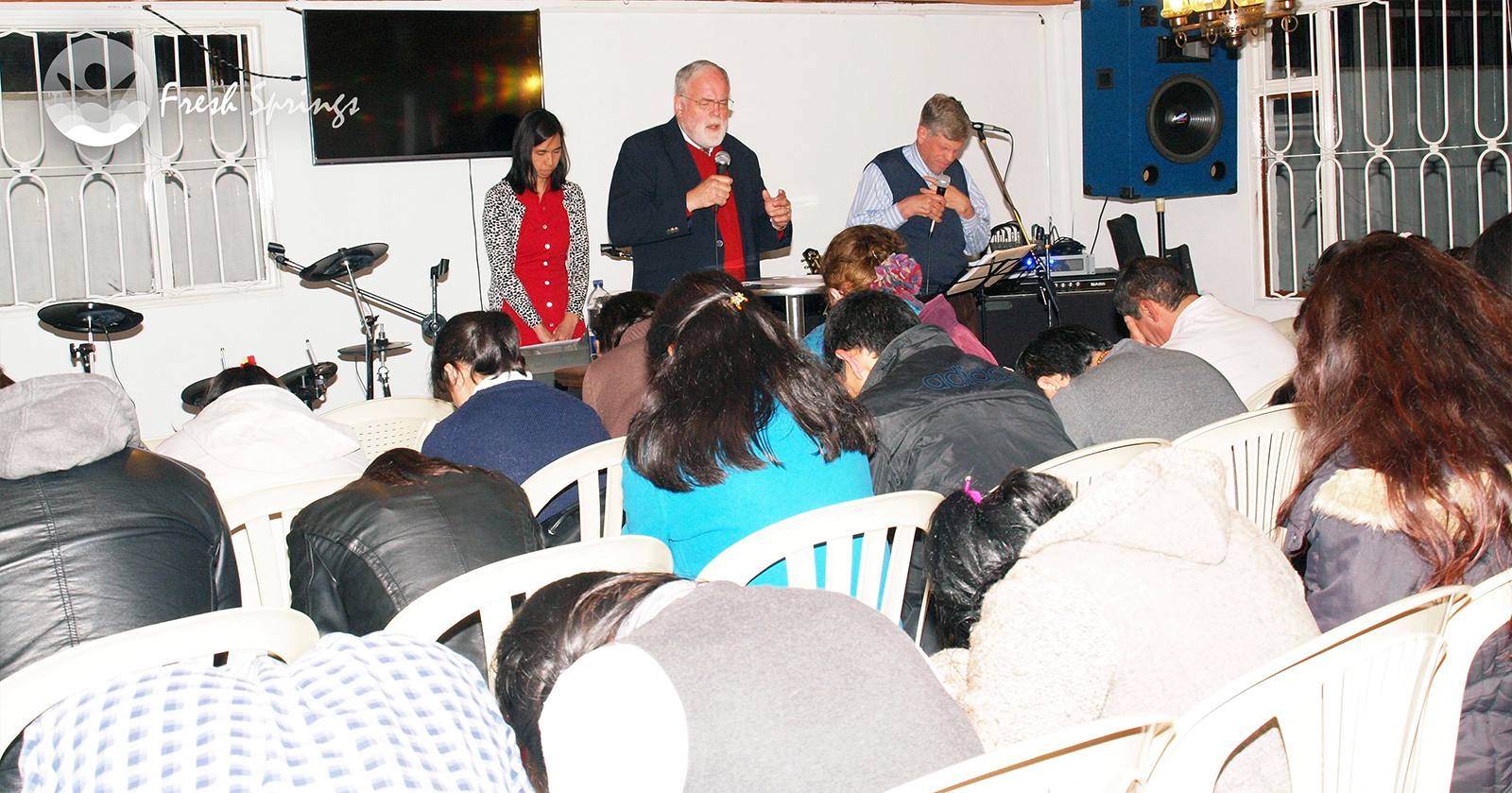 On Wednesday evening, I preached at Iglesia Cristiana del Norte in Chía with about 15 people praying to receive the Lord. We had the great blessing of having the Cuban a capella chorale, Monte Sion de Cuba, with us that evening. We have known them for at least 7 years now, and they are tremendous singers and a shining light for the Lord in Cuba. We actually did our own songs afterwards with a combined chorale of those of us from Monte Sion in Chía together with Monte Sion de Cuba! On Thursday morning, I spoke at a gathering of about fifty pastors from all around the south of Bogotá, the same group that I had spoken to back in April. This time I spoke on the restoration of the fullness of the Biblical church with all her gifts, ministries, and callings upon every member to take their place as active servants of the Lord. The message was warmly received, and many of them asked me to sign copies of my book for them afterwards, to the point where my hand was getting tired!

Then at 2 PM, we went together with Pastor Eduardo Betancourt and the team from Rompiendo Cadenas to the heart of the section of Bogotá that is called the "Bronx." It is an area where at least hundreds of addicts are all packed together in a dangerous drug and crime zone, with armed guards serving the drug dealers standing here and there with their weapons. The pastor and his team are well-known there, preaching every Thursday and giving out food and drink to all comers. But he had Dan and me dress as "priests" with clerical collars so that we would not be assaulted or shot. We had prayed much for the time and, likely in answer to that prayer, the police had done a raid the day before, arresting another 18 of those armed drug guards. That probably made the remaining guards a little more hesitant to cause trouble.

We gave out large amounts of food, nearly a thousand tracts, and the pastor, Denise, and I preached to the people in the streets. We also sang hymns and songs, something not often heard in that area! I have seen desperate people in NYC, especially in the 60's and 70's, but nothing like this mass of humanity: oppressed, wasted, filthy, with some looking like walking skeletons. Many of these gave the pastor hugs or shook his hand, and several prayed to receive the Lord. As Eduardo commented afterward, the Lord gave us a peaceful time in that troubled sea, and an opportunity to touch lives.

One man in particular was standing listening, completely broken with tears streaming down his face as he listened to the songs and preaching. So I walked over to him and prayed for him, and then asked him if he wanted to receive Jesus as his Lord and Savior. I have never seen any street person so ready to enter the Kingdom of Heaven! He looked like he was in his 70's, with torn clothes, unkempt hair, filthy and smelly. Yet the pastor invited him to come on the bus with us back to the church as soon as I finished praying with him. Later on after the evening meeting, the pastor brought a transformed man up to the platform, clean and clean-shaven, smiling from ear-to-ear with a brightness in his face that was not there before. He also looked at least thirty years younger. The church will house, teach, and prepare him to reenter society.

That evening, I preached to around two hundred or more young men and women who are presently in the church's recovery program. I spoke on the theme "Do you want to be healed?" from John 5:5-6, Matthew 11:28-30, and finally Isaiah 61:1-3. I spoke directly and strongly to the young people, warning them that they might not live much longer if they continue in their sinful ways, but reminding them the Jesus's desire for them was to become sons and daughters of the Most High. When I gave the invitation based on Jesus's words, "Do you want to be healed?," between 90 and 100 and maybe more of those young men and women came forward. We were told afterwards that several of the young women were still weeping as they left after the service that night, and many of the young men came up to shake my hand and say "thank you."

Tonight, we will be at Iglesia Visión Colombia in Chía at 6 PM, tomorrow at 10 AM we will be at Congregación Mesiánica in south central Bogotá, and Sunday morning at 9:30 AM, we will have one more meeting at Rompiendo Cadenas, this time with many of the family members of the young people in the program there.

God bless you all and thank you for your prayers!