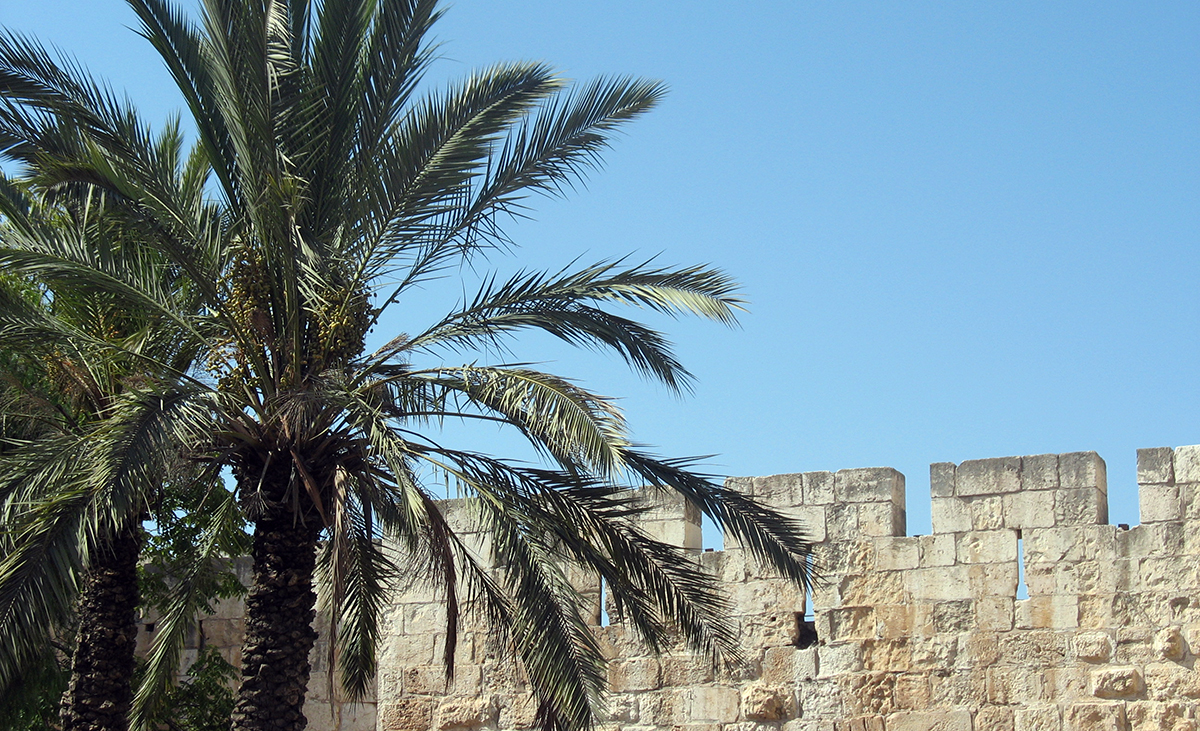 The old walls of Jerusalem (Photo by Daniel Voll)
There is a passage in Scripture that God has often used in my life, Psalm 46. When I was young, I was filled with fear and distrust because of difficult experiences during my childhood. Yet the Lord broke the power of that fear and taught me to trust Him by allowing me to go through some grueling circumstances beginning in my twenties. I had injured my left knee in high school sports and again while working in construction in New York. As a result, my knees required nine surgeries over a period of several years. Most of the doctors were telling me that I would never walk normally again, that is, all except my primary orthopedic surgeon, Dr. Dennis Fabian. He never gave up hope and never stopped encouraging me that all would be well.
Altogether, I spent about six years of my life on crutches between 1979 and 1995 and required over two and half years of physical therapy. Much of this took place during a long gap between my times of study at Yale University. Having entered the university in September 1971, I withdrew in December 1973, unable to afford the cost even though I worked three jobs in addition to studying full-time. It was at this point that I went into remodeling and construction work in New York, though I still attended and helped with undergraduate Bible studies on the Yale campus.
In 1984, my doctor scheduled me for one of these surgeries on a Friday morning at St. Vincent's Hospital on 14th Street in Manhattan. I took the subway to the hospital, arriving at 6 AM with my leg in a cast—not having eaten since before 6 PM the preceding evening. Unfortunately, the nurses left me sitting in the waiting room for hours, without even a chair on which to raise my swollen leg. At first, they first told me that my surgery was delayed and then, at noon, they informed me that the surgery had been cancelled. They offered me some lunch, but I refused to believe them and insisted that they check directly with my doctor before I ate anything. A nurse came back a few minutes later and told me that she had confirmed with the doctor that my surgery was cancelled, so they gave me lunch on a tray.
Unfortunately, while I was eating, the doctor walked in with a big smile asking if I was ready for my surgery. His expression changed to dismay and then anger when he saw me having lunch. He immediately asked me why I was eating as that would force them to cancel the surgery. I told him what had happened with the nurses, and he assured me that they had never spoken to him nor had he cancelled the surgery. At that point, he stormed off to give the nurses an earful about what they had done.
Nothing more could be done that day, so I had to get back aboard the New York City subway with my painful, swollen leg and then catch a bus to Yonkers. After hobbling down a long hill, I got into bed, depressed and discouraged. I slept fitfully that night because of the pain and discouragement. When I woke up the next morning, I was so exhausted and down that I knew I had to get into the Scriptures and pray. I reached for my Bible and it opened to Psalm 46:
As I read and meditated upon these words, my discouragement evaporated and was replaced with a strong sense that all would be well. Even the pain and exhaustion diminished to such a degree that I decided to drive up to Yale for the Saturday evening student Bible study, an hour and a half away.
Yale's Old Campus and Harkness Tower (Photo by Daniel Voll)
As I walked on crutches into Branford Chapel at the base of Yale's famous Harkness Tower, an undergraduate named Michael ran up to me all excited. He said, "Chris, Chris, I have something for you!" And I replied, "What?" He said, "Well, I will tell you later after the meeting." So, I responded, "Thank you very much—you got me all excited, and then you didn't tell me what it was!"
We had a lovely time that evening in the chapel, worshipping, praying, and studying the Scriptures. When the meeting was over, Michael came over and told me that he had been studying in the Cross Campus Library earlier that day. By the way, you need to know that Yale has over 11 million books, and my friend was looking for one book in particular on the shelves. When he pulled it out, a bookmark fell onto the floor so he picked it up. Then he said to me, "I want to give you that bookmark." And what was on the front of it? "God is our refuge and strength, a very present help in trouble." (Psalm 46:1)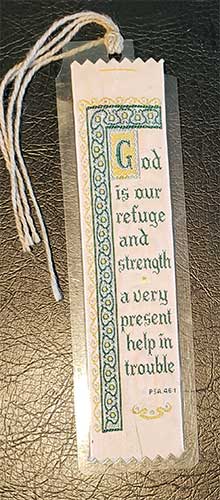 Photo by Chris White
Then he said to me, "Chris, turn it over and see what is on the back." Now, I was not even a student at Yale at this point. I was in the process of applying for readmission, but Yale had told me that they wanted to wait until I could walk without needing more surgery before allowing me to return as a full-time student. When I turned the bookmark over, I saw that someone had placed a Dymo label on the back of the bookmark with the words, "Please pray for Chris White." There was no other Chris White on the campus at that time, but here was wonderful proof that God had moved someone to pray for me! Does God know your name? Does He know your address? Absolutely! Does He know what you are struggling with? Absolutely! He is with every one of us as we put our trust in Him.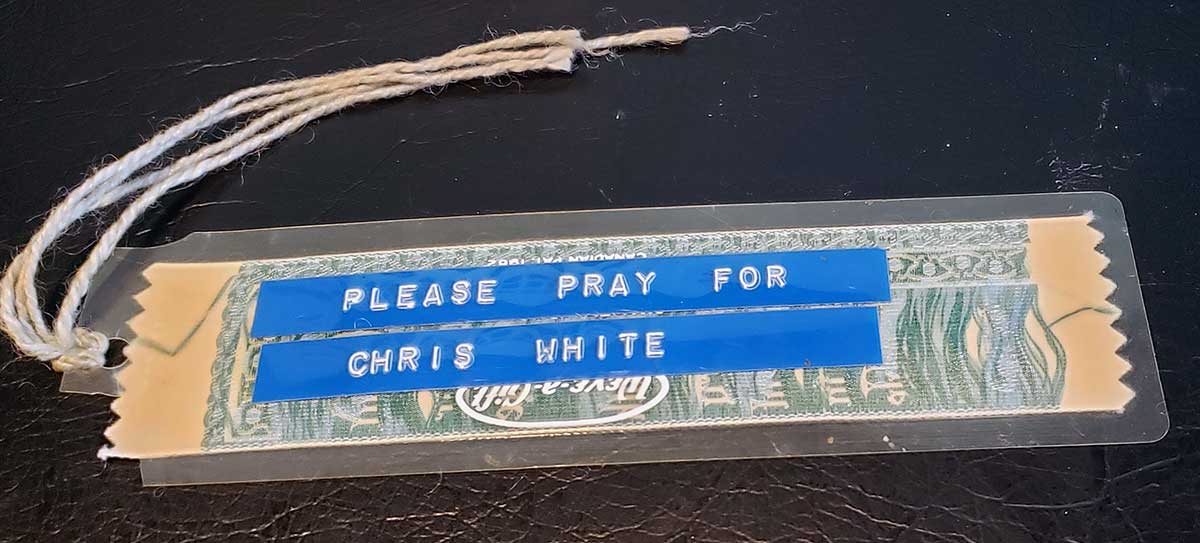 Photo by Chris White
I stayed over that night with friends from the Bible study in a student dorm room and attended the Evangelical Free Church near the campus on Sunday morning. The pastor invited me to give a testimony before his sermon, so I spoke about what had happened with my cancelled surgery, with Psalm 46, and the discovery of the bookmark. When the service was over, a believing Jewish lady walked up to me and told me that she was the one who had prepared the bulletin for that Sunday and chosen the Scriptures for it. She handed me one of those bulletins and told me to open it up and read what was there. And what was the featured passage she had chosen to put in the bulletin that Sunday? Psalm 46, with the key passages that had stood out to me the day before underlined!
As if that were not enough to get it through my thick head that God is always helpful, always present, and always to be trusted, there was one more incident two weeks later. The Bowery Mission in southern Manhattan had invited me to preach in a service for recovering alcoholics. My friend Michael had come down from Yale to join me at the mission, so that he could play his violin while I played my guitar and sang, crutches and all! When we were in the hall outside the sanctuary to prepare our instruments before the meeting, I sat down in a chair to work on my guitar. Then, as Michael began tuning his violin, he stared at the wall above my where I was sitting and his mouth fell open. I asked him, "Michael, what is wrong?" He replied, "Turn around and look at the wall behind you!" Since I could not turn around with my leg in a cast, I got up out of my chair and looked at the wall. There was a large sign with the words,
"Be still and know
that I am God."
I told this story that day in speaking to the needy men at the Bowery Mission, and many of them responded to the invitation to receive Christ as their Lord and Savior. There is no circumstance too difficult for God to turn around for good. As the old saying declares, "Earth has no sorrow that Heaven cannot heal."
One last blessing, Yale readmitted me as an undergraduate with a full scholarship in January 1985.
Christopher N. White ©2021.
***